Pack Out
SCS will package personal property from one room or an entire house and move it from a loss site providing necessary space for building repairs to take place.
Our fully documented procedure includes a line item, on-site inventory list, in duplicate, capturing digital photographs that correspond with the list. The duplicate copy is provided to the property owner. To assist the customer or client in the claims process, duplicate images can be provided on disc or via email.
After items are inventoried, they are professionally packed for transport to SCS' facility where property is cleaned and processed in a controlled environment. Before return to the customer, documentation is prepared including a packing list and digital images of the items after processing.
Storage
Until delivery is made, climate controlled storage is provided. Items that are stored at SCS are staged in a way that customers can come into our storage areas and view their personal or business belongings.
We can also assist with storage on site if necessary. SCS will place carefully boxed and wrapped content in an unaffected part of the home, storage unit or POD.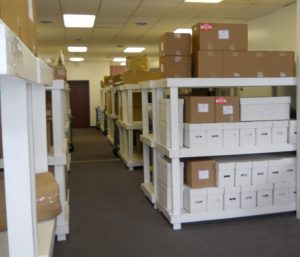 Climate controlled storage at SCS.
On site storage in unaffected area of home.
Return
SCS returns packaged property to the customer upon request. We provide a variety of delivery services. SCS will place content in appropriate rooms for the customer to unpack or we can provide white glove service by unpacking and placing content, either independently or at the customer's direction.
Non-Salavage
As an added service, we are also able to produce an inventory of non-salvageable items from a damage site.